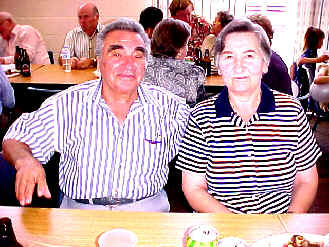 Antonia Mitsoupolous was born in Geraki, Lakonia in 1937.Antonia has three brothers and two sisters, Chris, Peter and Katerina are some of her brothers and sisters. Antonia was a courageous person.
She didnít go to school because of World War II. Antonia's family ate meat and veggies. They wore normal clothes just like us.
Katerina came to Australia in 1956 when she was 18 years old. Antonia followed her older sister Katerina, she came by boat.
When Antonia came to Australia she didnít speak English. Her first job was a restaurant cleaner and then a hospital worker for fourteen years.
Antonia married but her husband died in 2002 .Antonia has two children and has lots of friend in Australia and Greece. Antonia has been back to Greece four or five times.
Antonia and other people go to the Family Centre in Plympton Park. They go there once a week to relax and have a good time .It established in 1966 and is still going today. Itís building is shaped like a church. The club has social events at Christmas, News Years Eve and Greek festivals.
Antonia is a courageous person. She has worked hard in Australia. Her life was difficult in Greece because of war. Antonia has enjoyed her life at the fullest. She is a model Australian.