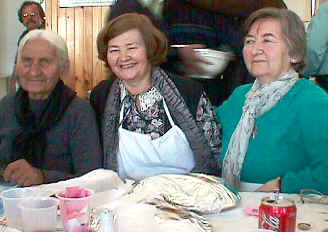 Katerina Mitrris is a mother of one daughter and two sons. Katerina is a Lakonian migrant who was born on 2nd June 1935. She lived in a family of nine. She left Lakonia in 1954 to come to Australia because she wanted a better life.
Katerina's life in Greece was good until World War II. The kinds of food she ate in Greece were olives, meat, pasta, peas and green foods. The shoes she wore were similar to ours but different. When she went farming she wore old shoes but when she worked at her husbandís taverna she wore much better shoes. The jobs she had when she was in Greece were farming, looking after animals and working at her husband's taverna. Her house was a medium sized house with three rooms and it was a two-storey house.
When Katerina heard that she was going to leave Lakonia she was very upset because she was leaving her family and friends, but she knew she would be safer and have a better life in Australia. She travelled on a ship called the Anasalim. She got sick on the ship on the way over. She came to Australia with her husband and eleven month old daughter. The first place in Australia she came to was Melbourne. She then travelled by train to Bonegilla in country Victoria, then after one month she came to Adelaide.
The hardest thing for Katerina and her husband was communicating because they couldnít speak English but the people were very nice to her and generous. They soon had a house in Adelaide. She found it a bit hard to find a job because she couldnít speak English, but within a week of arriving she got a job in a fruit factory.
Katerina now has a good life. She has a good house. She has no problem with money. She has some family here but others who aren't here she visits in Greece a lot. She has visited Lakonia twelve times and it has changed a lot each time she goes there.
Katerina goes to the Lakonian club most Friday nights. At the club there are books about the place where she was born. She enjoys going to the club and talking to her friends and family. She has been a member for a long time and she very much enjoys going there especially after a week's work so she can relax.