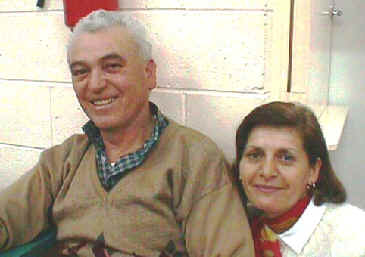 A mother of two children and a Lakonian migrant, Antonia was born on the 20th of March in 1943. She grew up on a farm six kilometres from Sparta. Antonia helped her family of seven people by picking vegetables and fruit and also looking after the animals. She was a member of a family with three sisters, a brother, mother and father.
Antoniaís school life in Greece was similar to life here. She only went to primary school for six years and high school for six years.
Antonia had a good life in Greece before she found out her sister in Australia was sick and was also getting married. Antonia had to leave Greece to help her sister. Antonia was thinking about how she would get along in Australia when she didnít know how to speak the language. She didnít want to leave her family behind. She travelled on a ship to get here.
Antonia worked as a hairdresser with a good friend who helped her to learn to speak English, but when she was not at work she listened to the radio and read the paper. She worked for a long time and has now been retired for six years.
When she arrived in Australia she went to Sydney where she saw lots of things. Antonia thought Australia was great and how lucky she was to be able to afford more things and that there were better jobs.
Antoniaís life in Australia is great. She loves to go walking with friends and loves to dance to Greek music and rock music. Antonia also likes relaxing by the river.
The hardest thing Antonia found about leaving Greece was communicating with her friends her family and also her cousins.
Antonia is a member of the Lakonian club that has been around since1966. She likes to talk with other people, to dance, eat and have a great time. This helps her to learn more about herself and others.
Antonia Avanitakis's life in Greece was great. Coming to Australia has changed her life and made it better for her. Antonia still visits her family and friends in Greece.