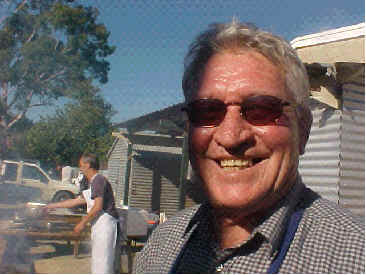 Panagiotis (Peter) Aronis was born in 1934 in a village on an island called Elafonisos. He was born at home with his mother being helped by a mid wife, because there were no hospitals on the island when he was growing up. He worked for his father who was a farmer. He had two sisters and one brother.
Life in Greece
Peter worked as a farmer in Greece and he had to kill animals for food for his family or they would not survive. He caught birds with his traps and his family made all their own clothes. His mum liked making clothes for his sisters, brother, himself and his dad. His family house was made out of clay.
Travelling over and migration
Peter and his family travelled by a ship. His sisters didnít really like coming over in the ship because they were sick. His brother and he liked the trip to Adelaide, his parents didnít come over to later.
Settling in
When Peter arrived to Adelaide for a job he was looking in the paper. Peter made friends because he went to the city and other places to make new friends. He lived with his family who already lived over here, they wanted him to move over here so he did now he has a better life.
Life in Australia now
Peter liked living in Australia because he had a better job. He also liked it because it was easy to get a job and he found it easy to find a house in Adelaide. It was easy for him to find friends in Adelaide.
The Lakonian Club
Peter goes to the club to socialise and to get to know new people. Everyone is welcome to go there and he has been going since 1997. Peter really enjoys going there.